From 10th to 12th October 2022, a group of 25 World Heritage site managers, from both natural, cultural and mixed sites, together with academics from all over the world, attended the People-Nature-Culture Forum in Suwon, South Korea. The Centre for Global Heritage and Development, represented by Mara de Groot, was among the participants. The PNC Forum 2022 was organized by World Heritage Leadership Programme (WHLP) - a joint ICCROM-IUCN capacity-building programme funded by the Norwegian Ministry of Climate and Environment - in cooperation with the Korea National University of Cultural Heritage (KNUCH) and with the support of the Korean Cultural Heritage Administration (CHA). The forum was to celebrate the conclusion of the 2017-2022 Korea-ICCROM Funds in Trust, which also coincides with the end of Phase I of WHLP and the celebration of the 50th anniversary of the World Heritage Convention.
BENEFITS OF HERITAGE
The theme of this first edition of the PNC Forum was Benefits of Heritage to People. The content development of the Integrated World Heritage Management Manual, also being coordinated through the World Heritage Leadership Programme and expected to be published in late 2022, has highlighted knowledge areas of heritage management that still need to be developed further.
Through the conscious efforts of the past decade or so, a need for people-centred approaches (PCA) has become a well-rooted concept within the heritage management discourse. While the necessity of adopting a people-centred approach for achieving better conservation results has continued to develop, how this new approach to understanding heritage management may benefit people and their livelihoods has not been concretely discussed and structured, especially regarding cultural heritage management.
By bringing together a group of heritage practitioners and institutions that have been working on the implementation of PNC course and other key capacity-building activities in the past five years, the PNC Forum aimed to map the range of benefits heritage places provide to people, allowing a better understanding of how heritage contributes to the life and livelihood of people and communities.
Next to presentations and lively discussions, there was a visit to the WH site of Hwaseong Fortress in Suwon (photo). A best practice in terms of PCA where the local communities at first were not happy with the nomination, but were included in decision-making and planning and saw the benefits of the WH designation. Now the fortress is the beating heart of the community.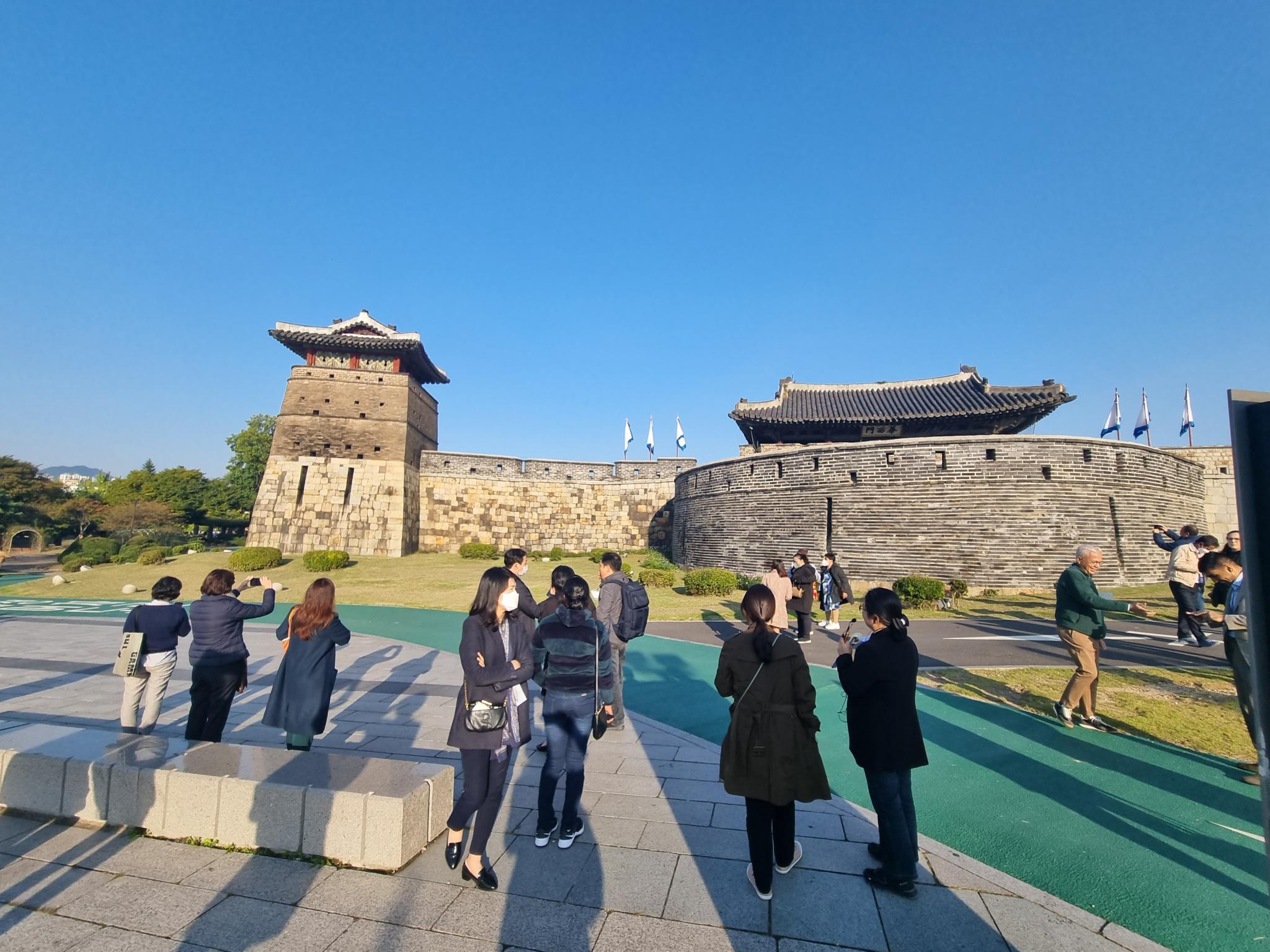 The forum was concluded with recommendations, a.o. to reconsider the PCA in also including the interests of non-human animals, to develop capacity building in lobbying in an attempt to make benefits of heritage better known to other sectors (infrastructure, health, economy), and finally but perhaps most importantly:  to develop indicators of benefits for our sector to be able to articulate these benefits better.