"Historical green structures are all around us. It is living heritage, mostly built by human hands. Examples are country estates with their intricate landscapes, but also monumental tree lines and solitary trees like the trees at Rotterdam's Lijnbaan–which survived the bombing in World War II." Gerdy Verschuure-Stuip is an assistant professor at Delft University of Technology in the Netherlands. Topics of her research are historical green structures and large historic structures like such as the Dutch waterlines, country estates, and suburban villa landscapes or planted avenues.
"Historic green structures caught my attention when I worked as a monument official for the local Dutch government in Voorschoten. The property of the castle in Duivenvoorde and the possessions of the Royal family nearby were under my management. Since I majored in the transformation of country estate Vechtvliet in Breukelen, I started looking into historic country estates more often. Not just the actual buildings, but their connection to their surroundings, creating a large-scale heritage landscape system combined with their history.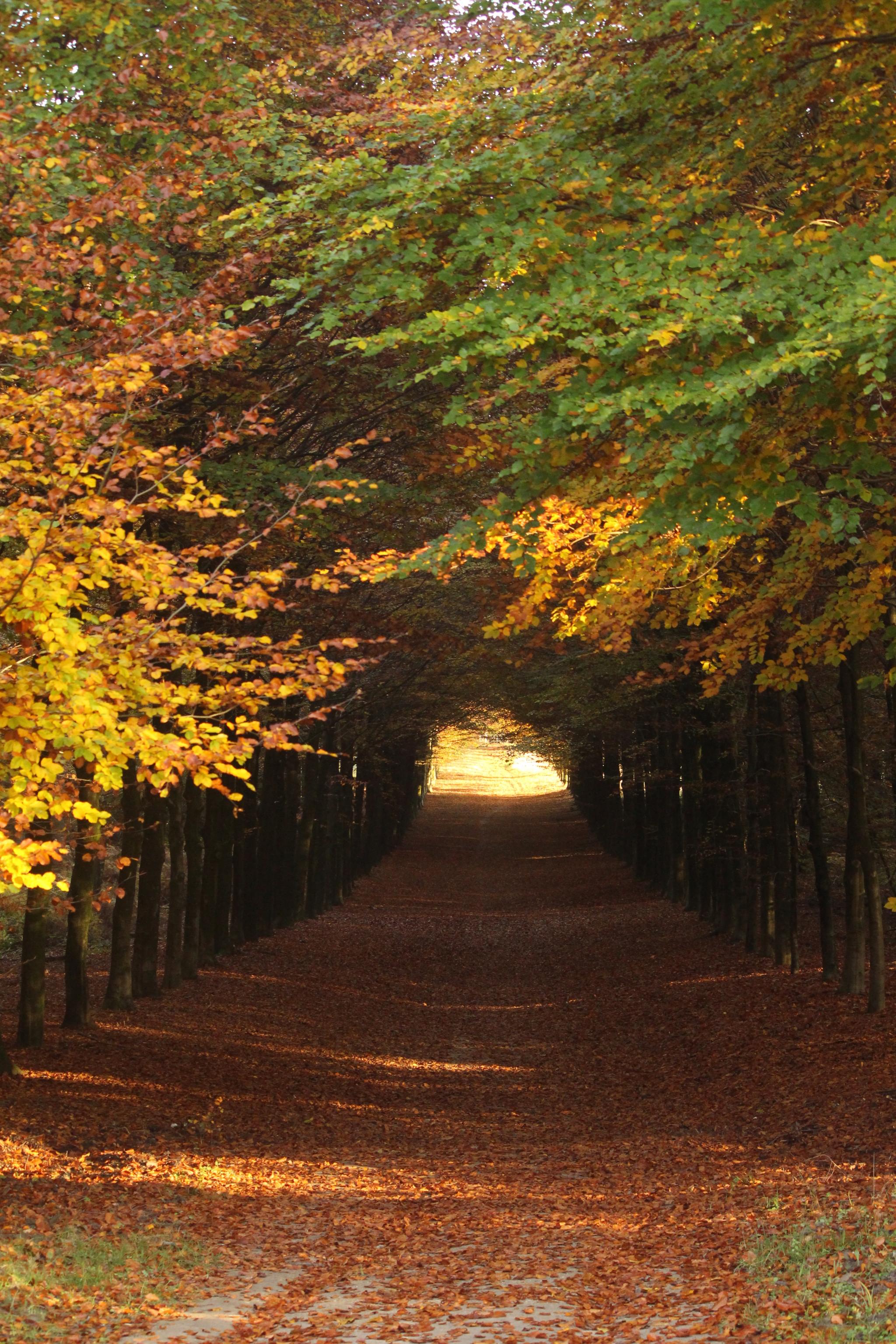 The green avenues at Hof te Dieren in Gelderland [photo: Verschuure-Stuip].
The book of planted tree lines
Verschuure-Stuip is currently working on a book. "My colleague Lotte Dijkstra and I are writing a book on planted avenues in the Netherlands. The book is called Planted Avenues and discusses the indissoluble relation between trees and roads and the importance of planted avenues across our Dutch landscape, giving our countryside its typical character. The book will discuss all sorts of examples of these specific green monuments; their history and the way they are experienced.
"The idea of the book came after a lively discussion about trees alongside Dutch country roads. I wrote a blog suggestively titled 'Trees don't drive cars', this sparked a discussion, resulting in several interviews in the national newspapers NRC and Trouw. It also created a dialogue with the Minister of Infrastructure and Water Management, Mrs. Van Nieuwenhuizen. It was remarkable to see that knowledge about this matter is so fragmentated and spread among a large group of people."
An increasing amount of planted avenues
We know that Romans and Egyptians created long lanes of trees along their roads towards their country houses. However, the number of planted avenues increased significantly from the 16th century onwards in cities and at country estates, along main roads and around reclaimed landscapes. "A nice symbiotic example is the scenery at reclaimed land 'de Peel' and other areas where the craft of making wooden shoes was very popular – the trees planted at these locations reflected the local needs."
The diversity of avenues in the Netherlands is enormous. "If you look at a planted avenue in Zeeland, typically grown crooked and planted with hawthorn hedges, it has a very different look compared to the thin long-stretched lanes in the open landscape of reclaimed polder land in Noord-Holland. Not to mention the rich forest roads of Gelderland."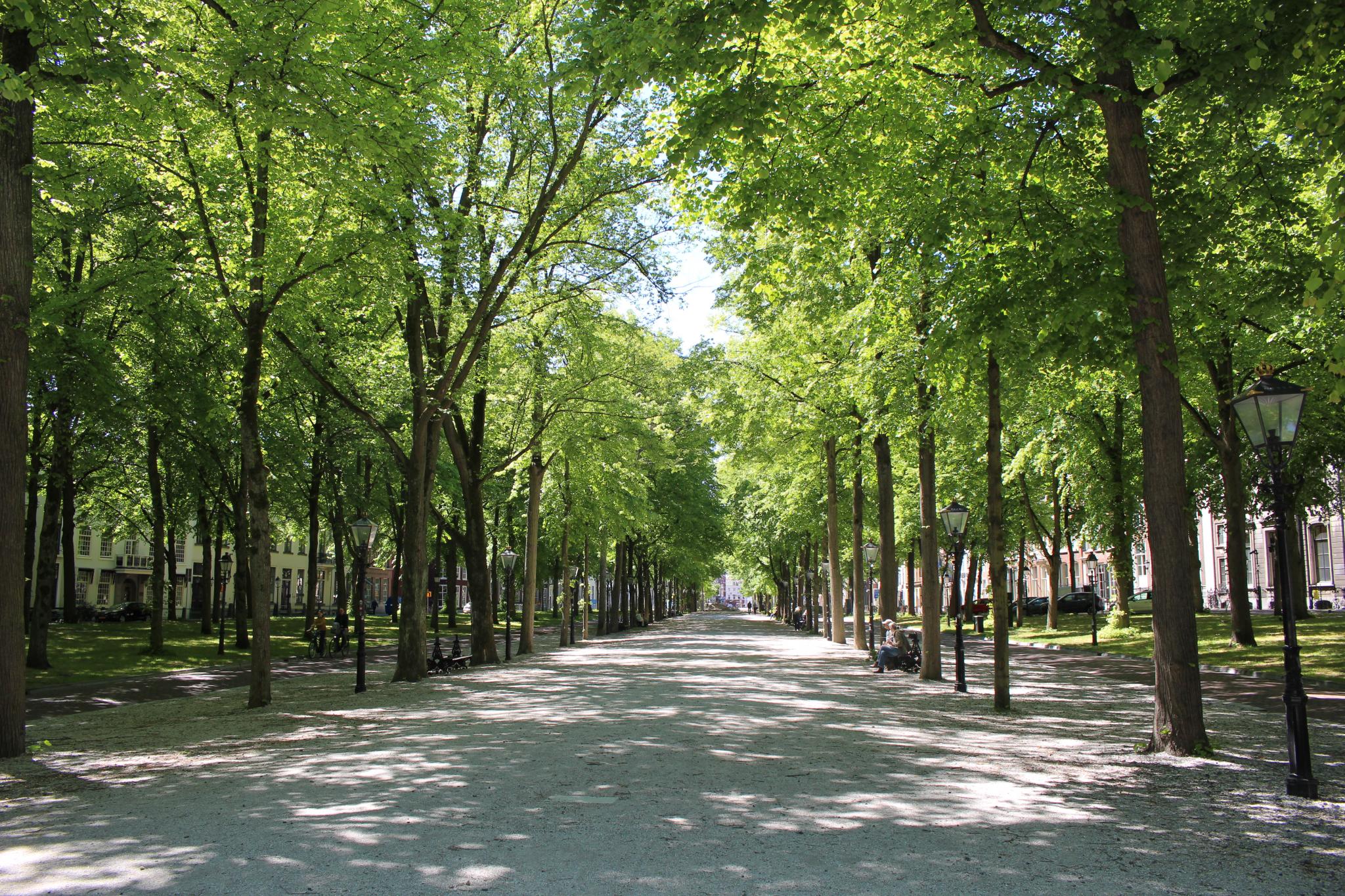 The urban green avenue at Lange Voorhout in The Hague [photo: Verschuure-Stuip].
The necessity of planted avenues
"The technical and practical side of maintaining and keeping a planted avenue is also part of the book. It discusses planting and rejuvenating techniques, climatological and ecological values, and also takes in account how the planted avenues are perceived by different modes of transport e.g., by bike or by car. The book will stress the importance of planted avenues, cutting through and connecting the Dutch landscape whilst giving it its own distinctive character. This will result in a book providing a myriad of knowledge about the diversity of Dutch avenues for everyone to read."
"Replanting historic green lanes is an interesting development. It can potentially bring back the experience of monumental scenery. When new country estates are built today, they are sometimes built on the foundations of a historic country estate. The Haagwijk estate, situated in Voorschoten, is a good example of rebuilding with historical values in mind. On a larger scale, Sion, a completely new urban neighbourhood, is inspired on the historical structures of an old country house close to Delft. It is a fascinating mixture of new ways of living combined with old ones."
The story behind the tree
"The most intriguing part of my work is telling the story behind a historic scenery. It is a culture driven way of looking at our scenery. What was the meaning of these structures historically, and what is their current significance? Combining these two aspects is very meaningful. For example, I currently work with students on the biography of trees. They get to pick a tree in the old city of Delft. They describe the place, its history, but also the story of this  specific tree, its meaning and use. Was it used as beautification, for medicinal purposes or as a lightning diverter?"
As an example, Verschuure-Stuip mentions the Prinsenhof in Delft. "This is a place where old chestnuts have remained. During the second World War, there was a great shortage of firewood, and many trees were (illegally) cut down to provide warmth in winter. But the Nazi's had taken residence in the Prinsenhof, therefore blocking the cutting of these chestnut trees. No one dared to cut them down."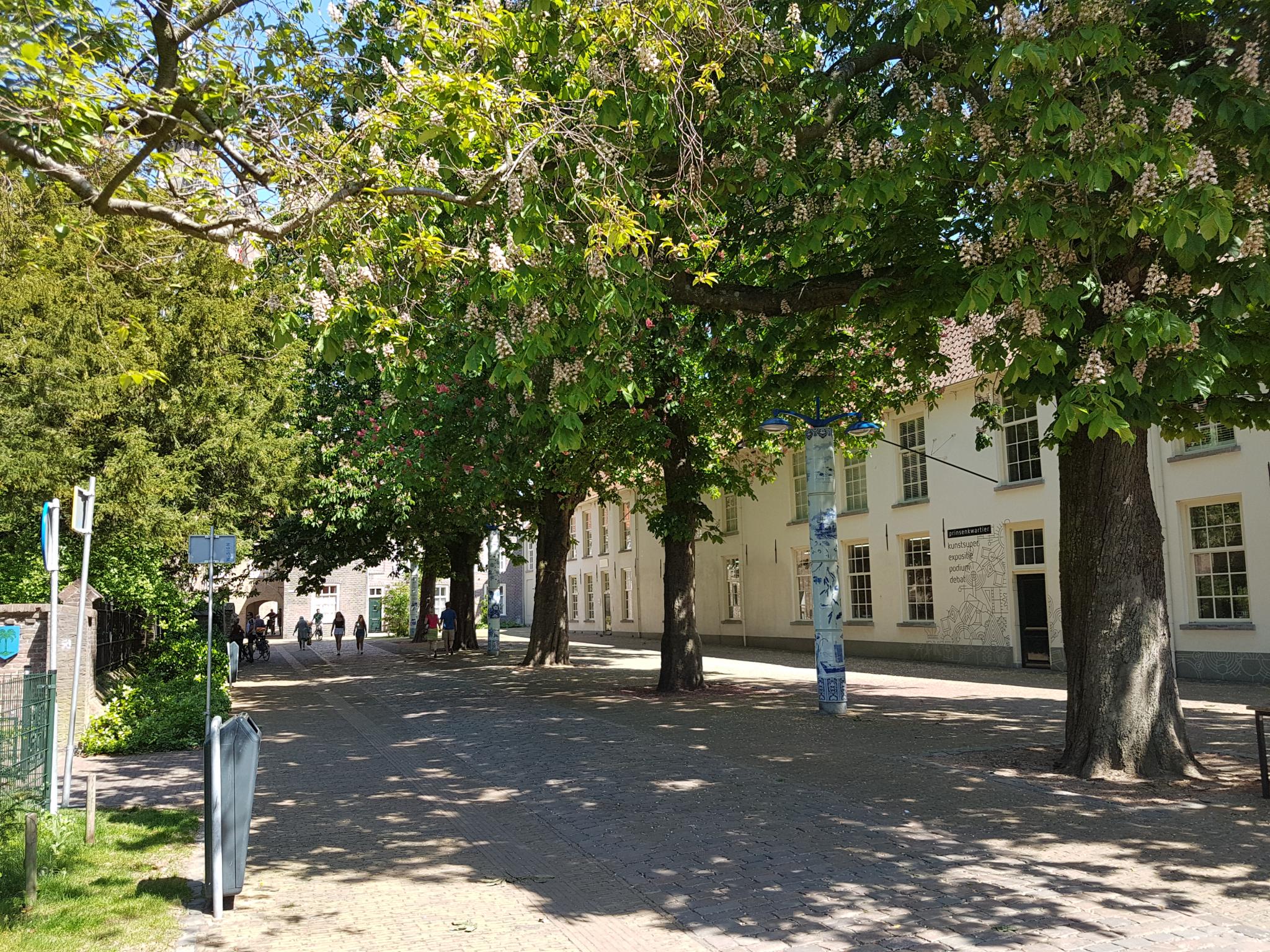 The old cheastnut trees at the Prinsenhof in Delft [photo: Verschuure-Stuip].
Interuniversity collaboration
"Recently, I joined the Centre for Global Heritage and Development (part of the Leiden-Delft-Erasmus Universities Alliance partnership) as a research coordinator. Together with these three universities we want to pool our research, in particular in regard to larger historical landscape structures such as military structures as waterlines. In collaboration with Leiden University, we are working on a design workshop about the Southern Waterline for a living lab at the Landscape Triennial. This line is a series of fortresses and inundation fields running from the east to the west of Noord-Brabant. The landscape Triennial was supposed to be held in 2020, but it was postponed to April 2021. This interuniversity way of collaborating is very important for the development of our research, the LDE is a vital linking pin in the process.
Gerdy Verschuure-Stuip is an assistant professor at Delft University of Technology in the Netherlands and research coordinator at the Centre for Global Heritage and Development [photo: Verschuure-Stuip].