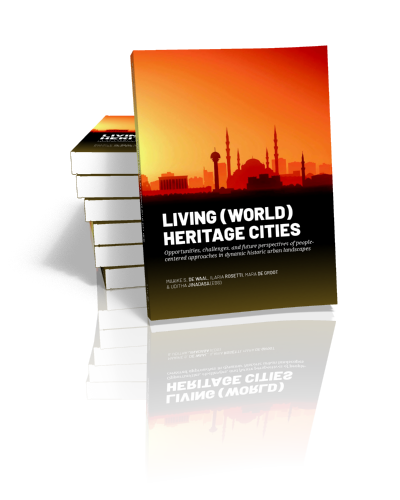 The Centre for Global Heritage and Development is proud to present its new book Living (World) Heritage Cities, edited by Maaike S. de Waal, Ilaria Rosetti, Mara de Groot & Uditha Jinadasa, which has been published open access by Sidestone Press in December 2022.
Cities are dynamic places, the heart of human interactions and their complex and diverse living environment. As a result, numerous interests, needs, and values have an impact on these dynamics of interaction and urban transformation, which present both opportunities and challenges for the growth and development of cities. In particular,  when urban development involves managing and conserving both listed and un-listed heritage, as in the case of World Heritage cities, a variety of public and private, as well as international and local stakeholders, are impacted by processes of change.
This book investigates how (World) Heritage Cities manage the preservation of their living heritage, the requirements for its efficient management, the methods used, and the opportunities and challenges faced. The findings provide an overview of current practices, including their evolution throughout the COVID-19 epidemic, which might help to guide and inform further research and urban strategies.
We want to thank the editors,  the authors and everyone else involved in producing the book for their wonderful contributions and patience! 
You can order a copy of Living (World) Heritage Cities here:  https://www.sidestone.com/books/living-world-heritage-cities