Report from the workshop and conference 'Collaborative Film-making: Approaches in Archaeology, Heritage and Development' (October 30-31st, Leiden)
Report by Selina Abraham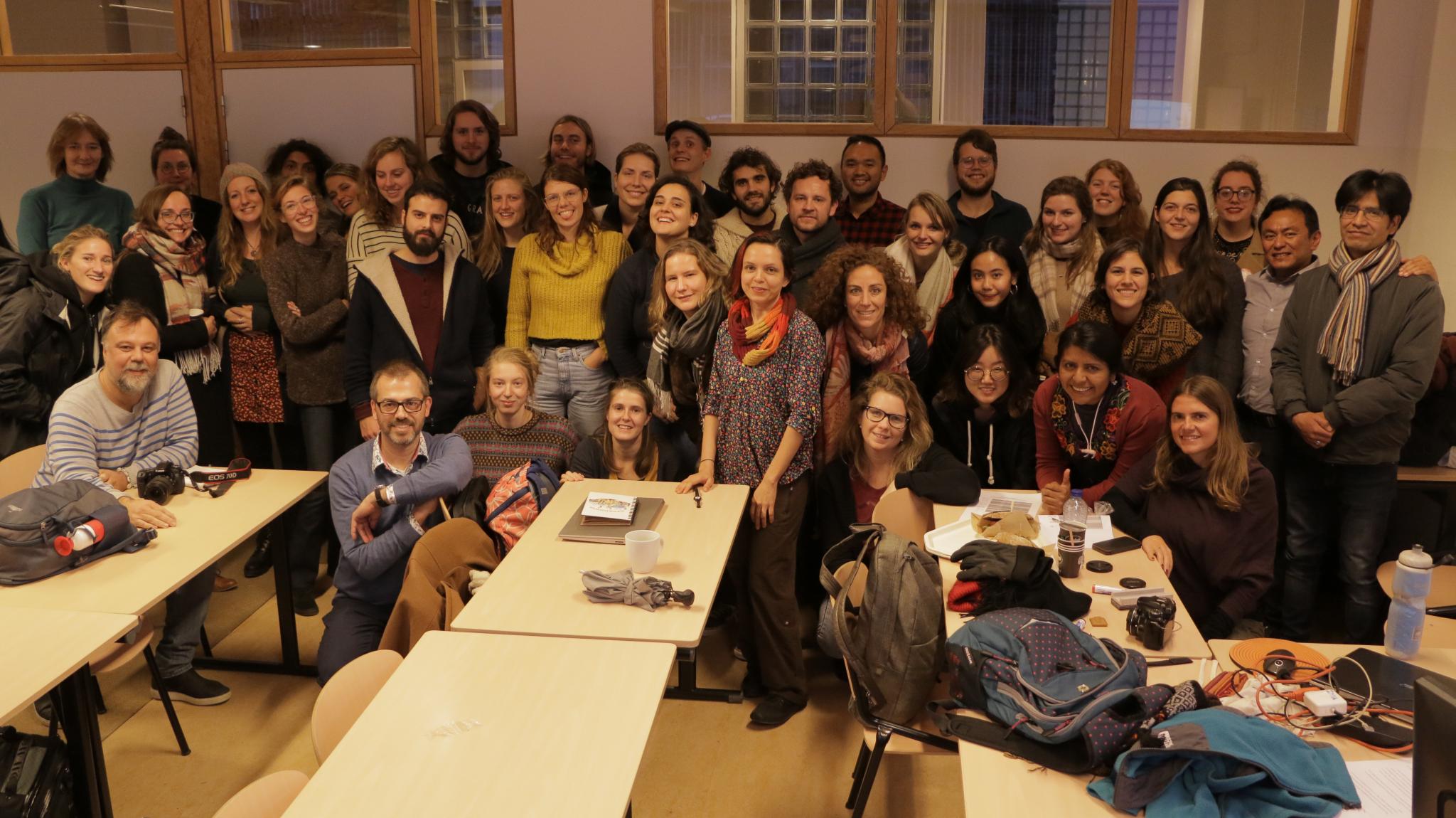 The fields of archaeology, heritage studies, anthropology and social development have seen an increasing interest in both the techniques for film-making and the power of representation that it awards its subjects. But film-making and these associated fields have powerful colonial legacies that need to be addressed to ensure their inherent inequalities do not translate to on-screen representation. An event titled 'Collaborative Film-making: Approaches in Archaeology, Heritage and Development' was organised by Genner Llanes Ortiz and Natalia Donner from the Faculty of Archaeology at Leiden University and aimed to address these concerns. Donner explained that her motivation for the event began from her work in archaeology, where ethnographic documentation of an excavation often consists of plain amateur videos. But working with professional film-makers opened her perspective to the potential that the media could offer to her field. For example, the study of a ceramic object could benefit from a larger narrative of its origins which acknowledges its creators, their descendants, contemporary creators, users, and associated objects. This offered a more inter-disciplinary approach that could not only study an object through an anthropological lens but potentially also through a decolonising one. The other main objective of the organisers was to explore the potential of using film as a tool to progress the struggle for indigenous rights and a voice for historically marginalised communities.
The dual event, comprising of a conference and workshop, took place on October 30th – 31st, 2018 at the Faculty of Law, Leiden University. The conference featured five presentations of film-makers who have already encountered challenges of representation in their professional ventures. The presentations were often accompanied by a short-film and a reflection from the film-maker. Through these presentations the practitioners showed by example, different methods of collaborative film-making to describe community inclusive methodologies. The second day consisted of a workshop which brought together 30 participants with the film makers and other specialists to help them create short films inspired by the local Wednesday market at Leiden while reflecting on topics discussed in the conference.  
At the conference, Armando Bautista, a Mixtec screen-writer spoke about the important of making fictional narrative films with his own community, working with other Mixtec film-makers and actors. A crucial step that allows the community to control the narrative of the film, considering that films produced in Mexico almost never include the millions of indigenous communities that call it home. The movies describe personal stories of migration that have led to people losing touch with their roots. By creating films from within the community, Bautista showed that the indigenous people are in control of how they are represented in media. Tryfon Babilis, of the Netherlands Institute in Athens, shared different examples from their Summer School 2018 "Visual Ethnography of Cityscapes" – an intense three-week program that brought together students, researchers and visual artists from various disciplines to study Athens through an ethnographic lens. Babilis described how students took different approaches where they collaborated with the community to represent their subjects. But he also reflected that the power of a film is in its production. The producer makes crucial choices in editing and frames that may not always reflect the collaborative spirit present during filming.
After a short lunch break, the third filmmaker highlighted was Chiara Digrandi from the Cine Sin Autor (Film sans Author) – an initiative from Spain and Italy, described a collaborative process that cultivates the imagination of the film-maker's subject. Where the "community is no longer just the object but also the subject" and "imagination is the territory where possibility sprouts". She speculated that while movie making has been democratised over the last couple of years, its use has not reached the same level of liberation. In her project she works with a group of teenage refugees from Libya, and helped them script, write, direct and produce their own films. The film becomes a means for people to express themselves and expand their own social imagery. Fourth in line was Irina Ruiz Figueroa, a film producer and the director of Acampadoc. Acampadoc began as a website and an embryonic idea that developed into a documentary-film oriented camp, festival and artist residency in Panama. Her objective is to preserve heritage partly through ethnographic documentation of communities by involving them in the process and providing a platform for the community to engage with the films. The last presentation was from David Donner, an anthropologist and film producer from Mexico, who showed how films can be used to increase awareness about political, environmental, social, cultural and ecological themes. He explained how his team's work with Indigenous peoples contributed to struggles for land rights and to self-representation initiatives of these communities. It also supported initiatives to restore place names to their pre-colonial origins. The wider audience that medium of film would give these stories helped reflecting change at a larger political and federal level.
While the conference and the workshop showed that film-making could use different models of collaborative processes while working with communities, it also showed the potential for inter-disciplinary collaboration and exchange of knowledge. Various fields, like archaeology, urban/social development and anthropology, have embraced their own models of community participation during research and production of knowledge. And there is an opportunity for each discipline to come together to learn methodologies for decolonisation and community representation that could advance each respective field.
More information of the conference and workshop can be found here.