By our student reporter Sohini Mallick
An interesting discourse on issues relating to inclusivity of marginalized voices and sections of society was held at the celebratory opening event of "The Critical Visitor: Intersectional Approaches to Rethinking and Retooling Inclusion and Accessibility in Heritage Spaces", at the Het Nieuwe Instituut in Rotterdam (16th of January 2020). The Centre for Global Heritage and Development were one of the sponsors for the evening. The event comprised of the team of researchers - Eliza Steinbock from Leiden University, Hester Dibbits from Erasmus University Rotterdam and Dirk van den Heuvel from TU Delft, two PhD students, representatives of sponsors and organisations associated with the project, and an audience of people aiming to make a difference.
From the very start, it was clear that the forerunners of this project were extremely dedicated towards this endeavor that they had undertaken, to include marginalized voices and narratives that have ignored in the past and increasing accessibility to heritage and culture, as well as tackling biases based on race, sexuality, ability, age and so on. The aim was to make heritage spaces and representation of communities in heritage, art and cultural spaces more intersectional, by strategies such as decolonizing the narratives, restructuring of archival practices and 'queering' of cultural spaces – a term which has commonly used as a slur against the LGBTQIA+ community and has in recent years been reclaimed by the community as a show of empowerment.
The event started off with an introduction to the research plan, formulated on the basis of three principles – theory, ethics and practice. The first three subgroups were introduced as Field Labs, Archival Interactions and The Queer Salon. Subsequently, the two PhD students talked about their research topics i.e. the last two subgroups, in an interactive talk with the researchers. Nina Litte's work leads to the founding of an inclusive space. It consists of revisiting archival narratives of LGBTQIA+ history and bringing to the forefront debates relating to inclusion of different groups of people from the wider community. Liang-Kai Yu meanwhile is working on the queering of museums. His study deals with how curators and artists can become 'critical visitors' in a queer space, and how curatorial practices can play an important role in promoting inclusivity through museum displays and exhibitions.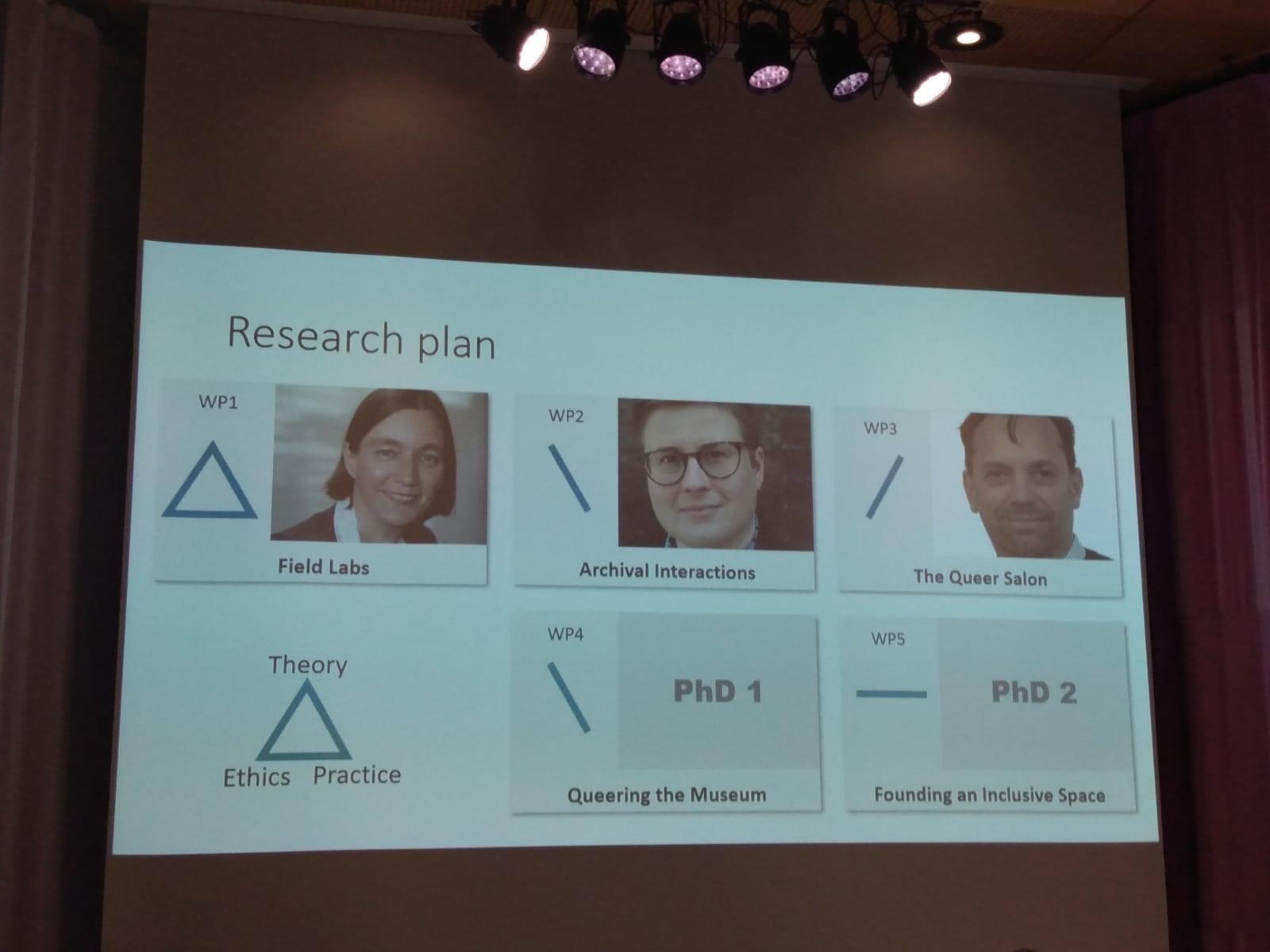 A discussion with the partners revealed more of the role they play in this venture. The group consists of a variety of people who are associated with promoting inclusivity of different marginalized groups in different fields, be it accessibility of hearing impaired individuals in museums, giving prominence to women's history and female voices, inclusion of multiple voices in archival inventories and their decolonization and so on.
An interesting insight, shared by one of the partners was deeply poignant – how important it was to include the voices of numerous people who in our eyes may not be "100% factually accurate". We often look at these narratives from a position of privilege and self-awareness of our pedigree. Narratives of indigenous people about their own histories have often been overshadowed by their colonisers, as they are often considered academically superior. Voices and thoughts of women have been considered irrelevant and frivolous since the very beginning, and their contributions and opinions dismissed. Race has often dictated the representation of voices, one such example having been discussed in the session itself, wherein metadata in archives revealed that often only the names of white people have been mentioned as a source, whereas non-white people were given identities such as "coloured man/woman". Neglecting the opinions of those viewed as "others", so to speak, vastly limits our perspective on any kind of issue. This project is a step in the right direction in promoting inclusivity of voices and accessibility to all in a particular arena.