Since the last decade, three-dimensional (3D) printing has conquered every field. It offers the possibility to reproduce any object no matter size, material and shape: from boat propellers to nanochips, from pizzas to organs. Recently, 3D printing has entered the artworld: paintings are being printed, preserving their visual and material qualities in every detail. The possibilities 3D printing and other digital (technologies, such as Augmented Reality (AR) and Virtual Reality (VR)) offer have become an important topic of interest. Events such as the fire in the Notre Dame cathedral in Paris and the Islamic State's destruction of archaeological sites, underscore the fragility of our heritage. It is precisely here that technology can offer ways of reviving and preserving material qualities of (lost) artifacts, artworks made of unstable materials and objects in museum collections (e.g. V&A's ReaCH and LDE's Scanning for Syria). Not only are these technologies promising for the conservation and preservation of our heritage, but right now as we are dealing with a pandemic, it has become clear that it would have been unimaginable to continue engaging with artworks without 3D reproduction. The facility with which artworks can be used, adjusted and distributed via these technologies promote a much larger accessibility and stimulate a large array of different experiences that would not have been possible in a museum setting or the original artwork's fragile material.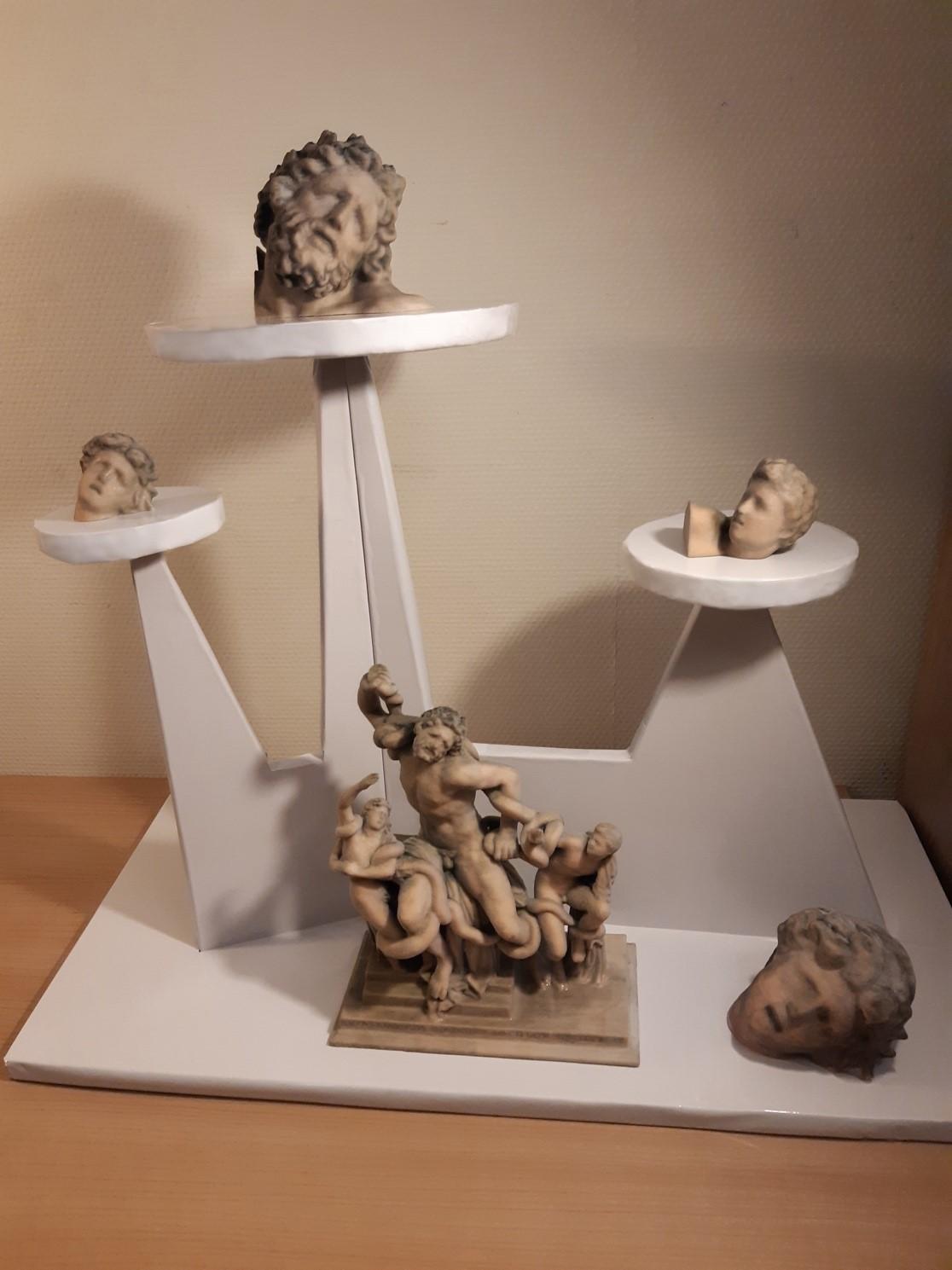 3D printed classical statues. Phtograph by Liselore Tissen.
Yet, although the development of technology and the digitization of global culture has attributed to a generation dealing with more art reproductions than ever before, there is a rising awareness that 3D printing offers something different compared to previous replication methods (e.g. photography and film) and contemporary digital reproduction technologies AR and VR. 3D printing discloses every material aspect of an artwork so well it liquifies the borders between what is perceived as 'real' or 'fake' and radically changes the experience of the artwork. The idea that in future times everyone can 3D print their own Mona Lisa at home or display a life-size copy of the Night Watch at any gallery imaginable profoundly disrupts the Western idea of the unique artwork made by one artistic genius guarded within the walls of the museum. It is inevitable that 3D printing will develop and that the technology will become increasingly better, offering new insights in art history, opening up different perspectives, experiences and possibilities hitherto unimaginable. As a researcher in the field of the Humanities it is precisely here that I feel the obligation to ask critical questions. Technology's possibilities are endless, but do we want this to happen? What will 3D printing mean to the perception of art and its authenticity? What does it mean that museums can display indistinguishable reproductions of any painting? How will this impact museums' role in society?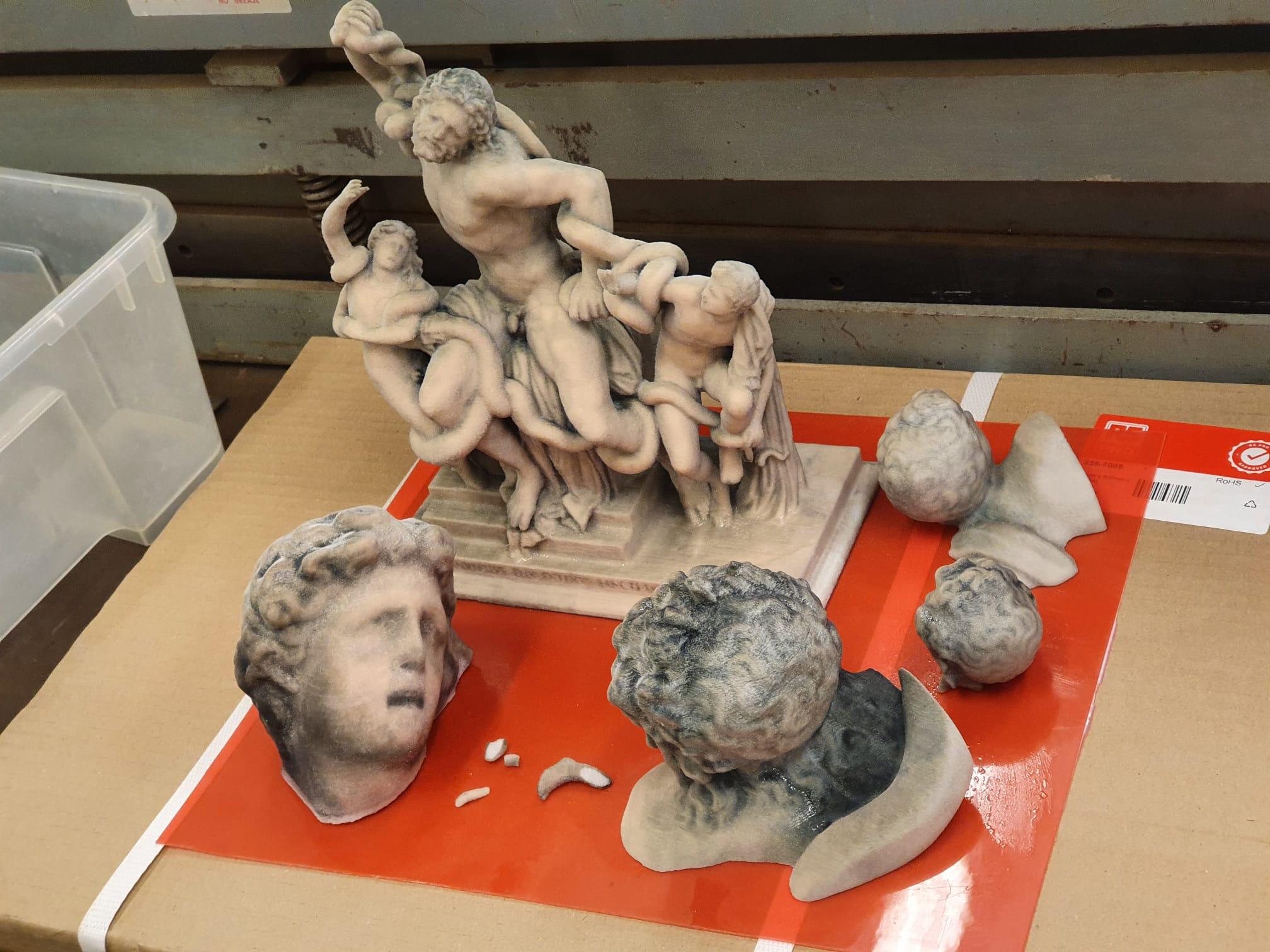 Prints fresh from the 3D printer. Photograph by Liselore Tissen.
This is where my research reunites TU Delft's more technical "because we can" side of the spectrum with the more ethical and humanities perspective "yes, it is possible, but what does it mean?" embedded at Leiden University. It is precisely this collaboration between very different fields, the unification of disciplines and universities which makes for interesting discussions, promising results and thrilling discoveries. Workshops such as the Online Workshop The Significance of 3D-Reproductions for Museums hosted last November 25th and supported by the CGHD showed the importance of asking ethical questions when it comes to the use of new technologies and it highlighted the importance of exploring the borders of these disciplines, the urgency and necessity of researchers with a different expertise to work as one. Only when we understand the ethical implications of the introduction of this technology can we explore the ways in which technology can attribute to maintaining both museums' critical function and artworks' social and material integrity in facilitating the creation of more enhanced experiences and new narratives than ever before.
Interested in the results of the workshop? Please send an email to: l.n.m.tissen@tudelft.nl