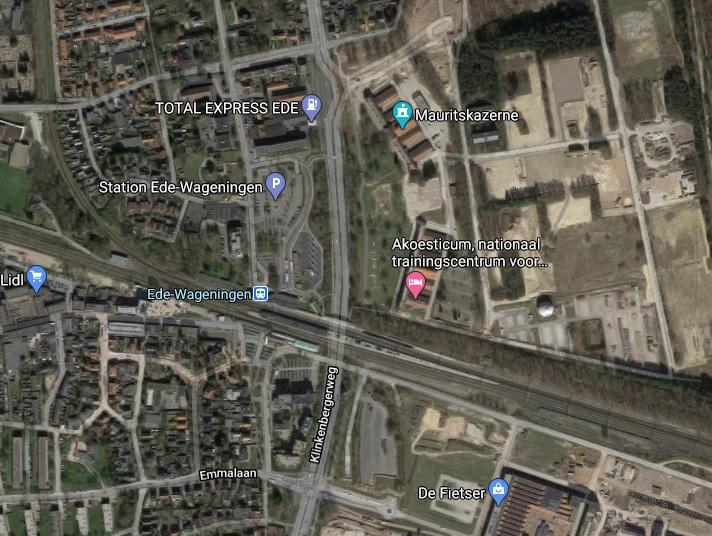 Dutch follows English
This year, the Heritage and Design workshop students will work on the main question on how they can redevelop a former military base (kazerne) in Ede into a residential neighbourhood whilst keeping into account the already existing natural and cultural environment. This workshop will give students an opportunity to tackle a real assignment connected to heritage and development in a multi-disciplinary team and in a limited amount of time. This pressure-cooker method will give you lots of hands-on experience and a chance to excel under pressure. For some students this workshop is part of their curriculum and they will get points accordingly. The workshop is however also open to other LDE students who welcome a challenge and the added experience.
Where: Ede and online (https://www.kazerneterreineninede.nl/)
When:  Tuesday 18 May to Friday 21 May 2021, every day 9.00-17.00
Who: MA Students from TUD, WUR, LU and VU (contact R. de Boer if you are interested)
Supervisors: Gerdy Verschuure-Stuip (TUD), Richard Jansen (LU), Marlies Brinkhuisen (WUR), Linde Egberts (VU)
Programme
Day 1: the students will walk around on the terrain with their groups and will have the possibility to ask questions to stakeholders.
Day 2: in the morning the groups will work on the assignment, in the afternoon they can ask for help/feedback from the supervisors
Day 3: the groups will pitch their first ideas and can get feedback from the commissioners and other experts.
Day 4: in the morning the groups can finalise their reports, from 13.00-16.00 there will be presentations given to local officials.
For registrations and further information please contact dr. Rients de Boer (r.de.boer@arch.leidenuniv.nl).
---
Nederlands
Het erfgoedatelier, ook wel genoemd de Heritage & Design workshop, is een jaarlijks terugkerend initiatief van de volgende partners: 
Leiden-Delft-Erasmus Centre for Global Heritage and Development 
Universiteit Leiden, opleiding MA Applied Archaeology
Wageningen University, opleiding MA Landschapsarchitectuur 
Vrije Universiteit Amsterdam, opleiding MA Heritage Studies
Technische Universiteit Delft, faculteit Bouwkunde 
Elk jaar gaan deze partners met een groep studenten van de verschillende universiteiten naar een locatie in Nederland waar een vraagstuk ligt op het gebied van erfgoed, landschap en ontwikkeling. De opdrachtgever zit met dit vraagstuk vaak nog in de beginfase en schakelt het erfgoedatelier in om de studenten in groepjes en onder begeleiding met verschillende ideeën te laten komen. De studenten komen uit verschillende disciplines zoals erfgoedstudies, (landschaps)architectuur en archeologie. Binnen vier dagen komen de diverse groepjes met frisse en ongebruikelijk perspectieven op het erfgoedvraagstuk. Op de laatste dag worden deze ideeën aan de opdrachtgever gepresenteerd, vaak in bijzijn van de wethouder van de desbetreffende gemeente. Vraagstukken die in het verleden zijn behandeld zijn de Muur van Mussert en de Zuiderwaterlinie.
Vraagstuk Ede 2021
Vanuit de wetenschapswinkel van Wageningen University is de vraag binnengekomen hoe voormalige kazerneterreinen in Ede kunnen worden herontwikkeld tot een woonwijk. De uitdaging is om hierbij rekening te houden met bestaande kazernegebouwen en groen structuren (met name bomen). Hoe kan een woonwijk dus ontwikkeld worden waarbij men niet uitgaat van een tabula rasa, zoals gebruikelijk, maar een tabula scripta. Deze laatste manier van ontwikkeling wint de afgelopen jaren aan terrein en zal ook in de toekomst meer en meer een rol spelen, mede onder invloed van de Omgevingswet. De Omgevingswet eist namelijk een samenhangende visie op een gebied met ruime aandacht voor participatie door verschillende stakeholders bij herontwikkelingen. 
Het atelier gaat plaatsvinden van dinsdag 18 tot en met vrijdag 21 mei 2021, waarbij van de studenten wordt verwacht dat ze fulltime beschikbaar zijn. We gaan er verder van uit dat het geheel in de basis digitaal moet, maar zullen ook binnen de maatregelen die voor praktijk onderwijs gelden in ieder geval één dag op locatie werken. Hiervoor worden de studenten in kleine groepjes opgesplitst met ruimte voor voldoende afstand. De wetenschapswinkel heeft als opdrachtgever toegezegd om ter plekke te zorgen voor catering en een overlegruimte.
Programma
18 mei: de studenten zullen in groepjes vrij rondlopen op het voormalig kazerneterrein om de huidige situatie met eigen ogen te bepalen. Hierbij zullen ze ook de mogelijkheid krijgen om met diverse stakeholders te praten waaronder lokale bewoners, de opdrachtgever en ambtenaren.
19 mei: de studenten zullen binnen hun groepen samenwerken aan de opdracht en in de middag de mogelijkheid krijgen om digitaal ondersteuning te krijgen van de begeleiders.
20 mei: de groepen kunnen in de middag hun eerste ideeën al pitchen en feedback krijgen van de begeleiders en opdrachtgever.
21 mei: in de ochtend kunnen de groepen hun rapporten finaliseren en van 13.00-16.00 zullen ze hun ideeën presenteren aan de begeleiders, opdrachtgever en een wethouder van de gemeente Ede. Hopelijk kan dit in Ede, maar waarschijnlijk wordt het digitaal.
Voor aanmelding of meer informatie, mail naar r.de.boer@arch.leidenuniv.nl