Thank you for purchasing a chocolate clay tablet from the Scanning for Syria project.  Here you can find the animated story of Tell Sabi Abyad clay tablet T98-34.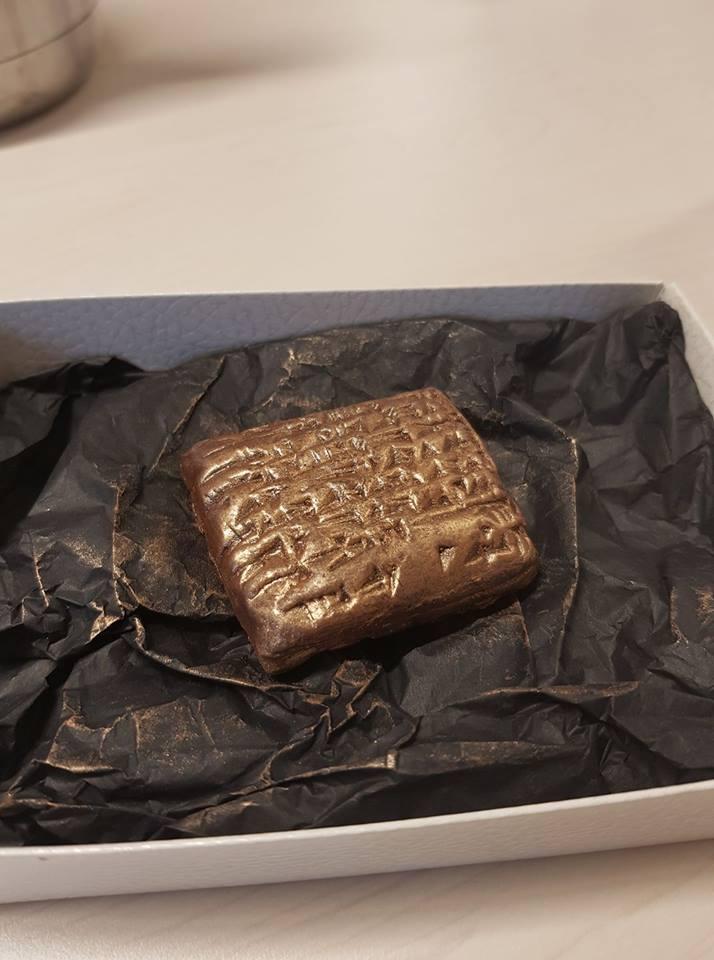 This chocolate tablet is a reproduction of a 12th century BC cuneiform clay tablet found at Tell Sabi Abyad in Syria. It was recovered in the 1990's by Leiden archaeologists and stored locally at Museum Raqqa. The museum was plundered and bombed during the recent Syrian war and this particular clay tablet vanished. Luckily, Leiden archaeologists had already cast the tablets for detailed description. The translation of the cuneiform is: 
Ten shepherds were sent by manager Tammitte to obtain information. If they do not return for reporting, the manager will give each of them 100 times strokes. 

Apparently there are problems in the north of Ili-pada's realm of which he wanted to stay exactly informed; hostile Muski or Kaska tribes, for example, who try to cross the Euphrates. The use of shepherds as spies has one major disadvantage, namely that they do not show up when you expect them. Tammitte promises shepherds in his service a hundred strokes when they miss their annual appointment - rather futile when they are not there.
Through 3D digital technology TU Delft was able to reproduce the clay tablets (in plastic ánd chocolate) for the Syrian people and for science. With this chocolate tablet you can have a taste of the richness of Syrian cultural heritage.
Profits from selling this product will be used to benefit refugee students in the Netherlands.