With an ever growing realization of the merits of interdisciplinary research, the Centre for Global Heritage and Development and the Lorentz Centre organized the workshop Securing Data in Mesopotamia: New Technologies for Secured Cuneiform Texts. The purpose of the workshop is to bridge the gap between the natural and computer sciences on the one hand and the Humanities, and specifically the study of the Ancient Near East on the other. This workshop was originally scheduled as a real-life event during the same week, but has been postponed to March 2022. However, on March 18 a successful digital kick-off took place.

Storage of cuneiform tablets. Image by Rients de Boer.
During the online session an overview was given of exciting new initiatives from around the world in just two hours with people participating from California, Germany, France, Cyprus, the United Kingdom, Czechia, and of course the Netherlands. Each speaker had ten minutes to present her or his research and this format proved to be fruitful and engaging. The overarching goal of the workshop was to conceptualize a new research strategy for Mesopotamia's ancient communication systems that goes far beyond traditional text analysis. The proposed investigation into cuneiform tablets offers a valuable case study for testing and evaluating, in a scientific way, newly developed techniques and algorithms for (virtual) modelling of geomaterials and man-made objects.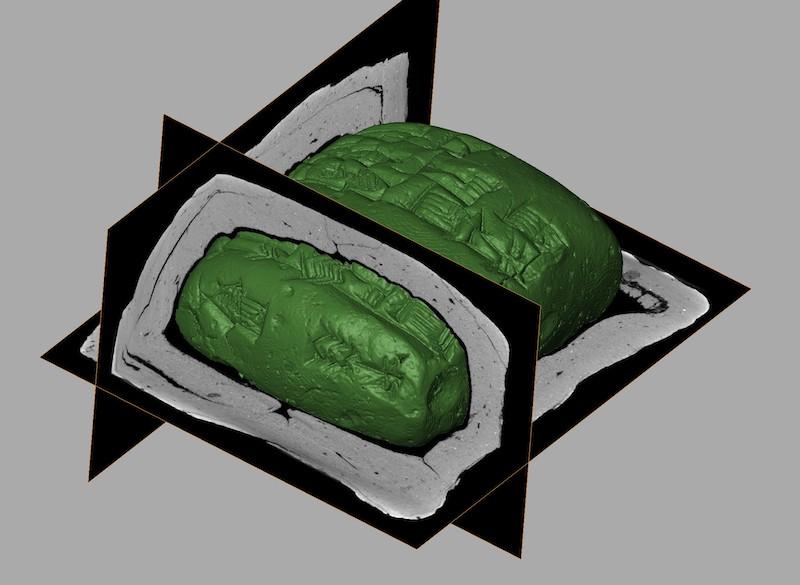 CT-Scan of cuneiform tablet encased in clay envelope. Image by prof. ir. Dominique Ngan-Tillard
Some of the new developments being applied to studying cuneiform tablets are Micro-CT scanning, Artificial Intelligence, and Linked Open Data. On October 28 there will be a follow-up online meeting with tutorials and workshops, the definitive date for the real-life workshop in March 2022 (hopefully hosted at the Lorentz Center in Leiden) is yet to be determined.