A future for a Dutch-Syrian shared research tradition
The brutal civil war in Syria is having disastrous effects on Near Eastern archaeology. The international community is facing the unprecedented destruction of archaeological heritage and the loss of priceless scientific information as sites are being destroyed on a massive scale, museums are plundered, depots filled with artefacts from decades of archaeological excavating are looted, and local communities are scattered and separated from their heritage. Archaeologists are confronted with the near-total collapse of Upper Mesopotamian archaeology, a field that only began in earnest in the 1960's but developed quickly into one of the world's most dynamic regional hot spots for archaeological study. The preservation of both movable and intangible archaeological heritage is at stake. At the same time, the current crisis compels us in our position as archaeologists to reflect on where we stand and what we have accomplished, with an eye to the future.
Many attempts at preserving this heritage are being taken around the world. Following a direct request from the Syrian Directorate General of Antiquities and Museums (DGAM), our project has adopted a Dutch perspective and makes use of available sources both in the Netherlands and in Syria. Provisionally termed 'Focus Raqqa', we focus on the regional archaeological museum of the city of Raqqa, with which archaeologists from Leiden have long-standing professional and personal relationships. Academic institutes in the Netherlands keep valuable archival records of their field projects in northern Syria. Some of these archives contain lists of objects deposited in the Raqqa Museum, together with detailed descriptions of these objects. Our Syrian partners, from their side, keep lists of objects collected over the past decades by the Raqqa Museum. By combining these sets we aim to achieve a comprehensive object database of use to international organisations working on the repatriation of heritage, as well as for the Syrian Directorate of Antiquities in the future. We are at pains to work towards a dataset that is commensurable with the practical demands of all these organisations.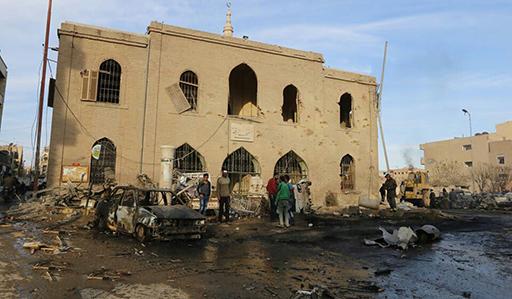 In short, the aims of the Focus Raqqa project are:
1) To assess the current and ongoing damage to archaeological heritage in the Raqqa Province of northern Syria;
2) To facilitate international organisations in the future recovery of stolen antiquities;
3) To contribute to post-conflict academic, historical, and heritage institutional rebuilding in Syria.
We are cooperating closely with Syrian members of the DGAM now residing in the Netherlands as refugees, giving them the opportunity to use their expertise and contribute to safeguarding the heritage of their country.
Over the past months our team has met and discussed with several people and institutions: archaeologists, police inspectors, members of the DGAMS residing in Europe, and representatives of UNESCO, SPIN-Lab, the Freie Universität Berlin, Durham University, ICOM, Shirin, among others. This has resulted in several collaborative initiatives and a workable structure for collecting information. We have made a first assessment of the budget required for a pilot study, and will commence fundraising later this summer.