Heritage issues in the 21st century can only be resolved with a transdisciplinary approach involving experts from different fields and a meaningful interaction with the stakeholders in the cultural sector. That became overtly clear at the kick-off of our Centre's new Art, Heritage and Science research cluster at Leiden's Museum Volkenkunde. Besides introducing the broad expertise of the cluster's researchers, the audience was posed the question of which museological practices may help reconcile the interests of different stakeholders in order to create more sustainable and equitable (re)distribution of heritage.  
After a warm welcome and short introduction by the Centre's academic director Prof. Pieter ter Keurs, the cluster's founding researchers Prof. Filip Vermeylen (EUR), dr. Anna Tummers (Leiden University) and Prof. Joris Dik (Delft University of Technology) took the floor and highlighted different, thought intertwined facets of contemporary heritage research issues and approaches. The Art, Heritage and Science cluster promotes the education and training of students and professionals at the crossroads of (materials) science, technology, the humanities and cognitive and social science, with the aim of preparing engaged global citizens ready to tackle current international issues. The cluster will also act as an incubator for transdisciplinary research, where the general public, experts and students from all academic fields meet, learn and co-create. An holistic approach is pursued, combining the methodologies of the various disciplines in relation to the heritage ecosystem at large.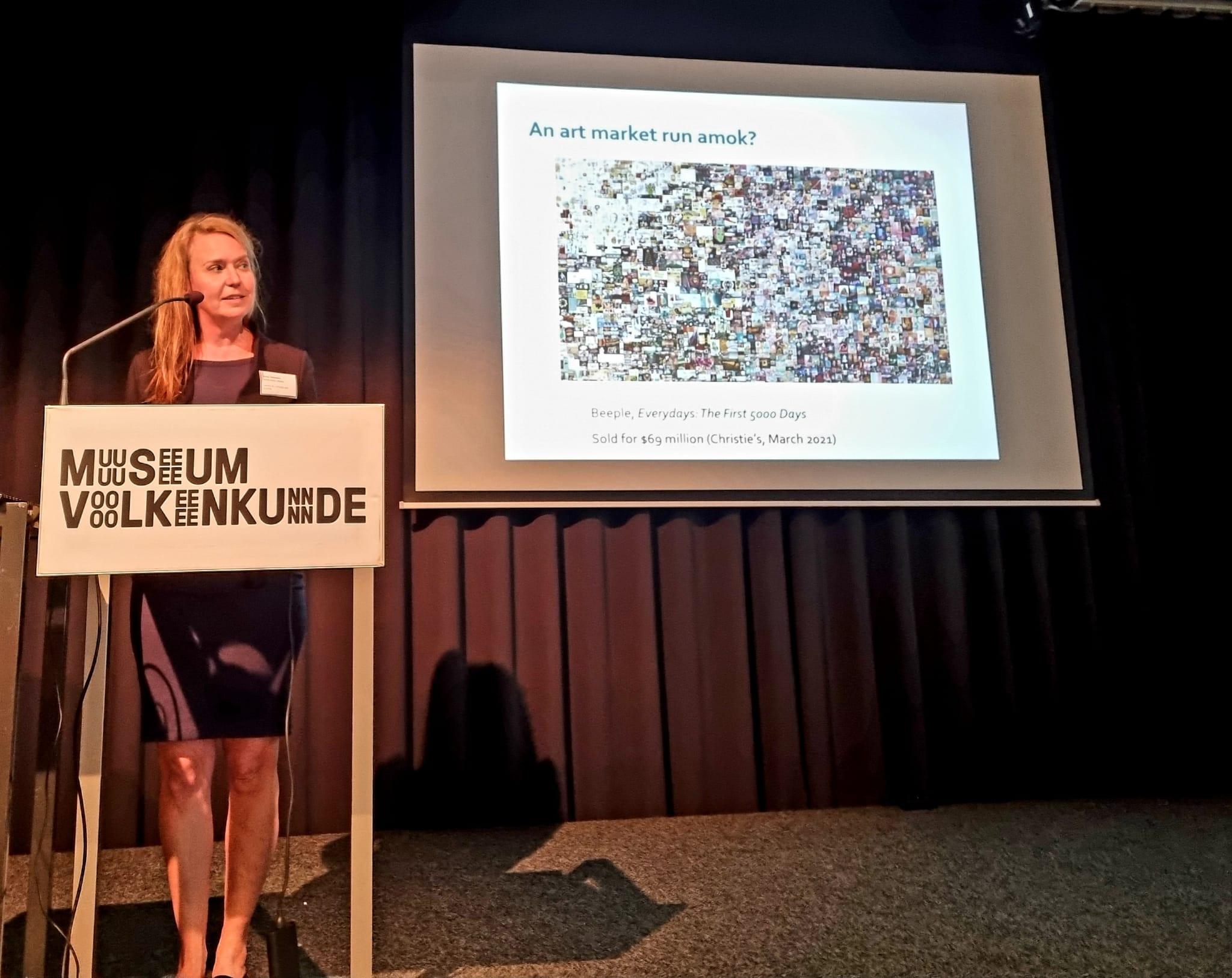 Dr. Anna Tummers, cluster manager Art, Heritage and Science 
To bring the point across, dual PhD candidate and cluster member Liselore Tissen (Leiden University and Delft University of Technology) presented her research on The Crucifixion, a painting by the anonymous Master of the Lamentation of the Christ in Lindau (ca. 1425). In her work, she shows how 3D scanning, modelling and printing can become an essential tool for resolving art restoration issues in close collaboration with various stakeholders. This combined approach in which art historians, restorers, owners, and computer and material scientists are involved shows how developing transdisciplinary heritage research is the way forward. The Art, Heritage and Science cluster aims to be a catalyst for this this development in the Netherlands.