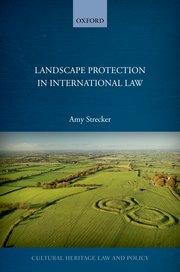 Amy Strecker, Assistant Professor at the Faculty of Archaeology at Leiden University and associated to the Centre for Global Heritage and Development, has written a publication on cultural heritage law and policy: "Landscape Protection and International Law", published by Oxford University Press in September 2018. 
Once the exclusive prerogative of domaine réservé, landscape has gained increasing importance in international law in recent years. Since the introduction of cultural landscapes within the UNESCO World Heritage Convention, and particularly since the adoption of the European Landscape Convention (ELC), emphasis has shifted beyond a scenic, preservationist approach towards a more dynamic, human-centred one. The focus is not only on outstanding landscapes, but also on the everyday and degraded landscapes where most people live and work. Landscape is land shaped by people, after all, and its protection, management and planning have a number of implications for democracy, human rights and spatial justice. Despite these links, however, there has been little legal scholarship on the topic. 
How does international law, which deals for the most part with universality, deal with something so region-specific and particular as landscape? What is the legal conception of landscape and what are the various roles played by international law in its protection? Amy Strecker assesses the institutional framework for landscape protection, analyses the interplay between landscape and human rights, and links the etymology and theory of landscape with its articulation in law.