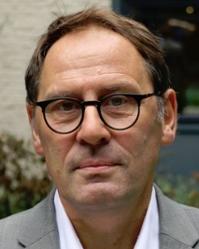 Jan Kolen, professor in Landscape Archaeology and Cultural Heritage  at Leiden University and Academic Director of the Centre for Global Heritage and Development, has been appointed as Dean of the Faculty of Archaeology from September 1st onwards. 
Kolen (1962) studied Archaeology at Leiden University. After graduating, he worked for the RAAP Foundation at the University of Amsterdam and the NWO Pioneer Project 'Changing view of Ice Age foragers' (Leiden University). In 2005, he obtained his PhD (cum laude) with his dissertation on the 'Biography of the Landscape', a new approach to landscape history. Since 2000 he was affiliated to the Vrije Universiteit Amsterdam, initially as a lecturer, then as Belvedere Professor of Heritage of Town and Country, and since 2009 as Professor of the History and Heritage of European Cultural Landscapes. In addition, Jan Kolen was Director of the CLUE Interfaculty Research Institute (Heritage and History of the Cultural Landscape and Urban Environment). 
Jan Kolen is a boardmember of ICOMOS Netherlands.